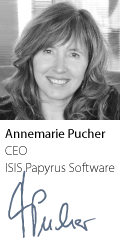 Business documents are a critical step in connecting your traditional and digital business channels. It sounds so simple, yet it's hard in practice to be effective when delivering these documents and messages to your customer-preferred channel in an Omni-channel world. Without a single source document administration, creating and managing business documents for physical and digital can be an expensive nightmare.
What you will learn:
How to leverage a single source document administration for print, web, mobile and e-mail achieving efficiency, corporate design, precision and quality.
Video: Single Source Document Administration
How can business teams create and maintain templates reusing document building blocks across templates and channels?
Video: Papyrus Correspondence Administrator Demo
What is required to monitor and track each delivery channel status and act accordingly?
When: Oct 18th 2017
Time: 13:00 ET - 14:00 ET
Topic: Take the Physical & Digital Integration Challenge
1-click Registration
I cannot attend. Please provide the slides.
Working globally with enterprise organizations across service-focused industries, I can bring deep experience in mapping technology innovation to business gains and advantages. As co-founder and CEO of ISIS Papyrus, I have spent almost 30 years expanding solutions to deliver the unique content- and process-driven Papyrus Platform for Business Communication, which is used today by more than 2,500 organizations worldwide and supported by 16 subsidiaries, 4 development centers and more than 330 employees in North America, Europe and Asia Pacific.