It's an exciting time at Papyrus Software! With great pleasure and excitement, I announce the availability of all 2020 Open House presentations on-demand in English and German for you on our website.
Please enjoy this short trailer giving you a glimpse into what to expect: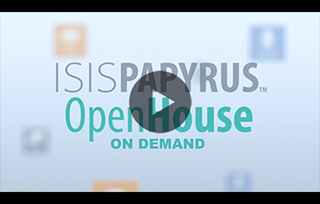 By now you've maybe heard about the huge success of our first two-day global virtual event. We broadcasted all sessions in two languages across three time zones. I personally received lots of excellent feedback, but there was one amazing letter I would like to share with you:
"I am absolutely ecstatic that I was able to see all of the presentations. I already love the product, and everything that I saw during the presentations made me hungry for more. Each and every presentation reinforced my beliefs in the Papyrus platform and demonstrated very clearly that the entire product suite has been built to seamlessly share objects and work together as a cohesive unit. As I watched every presentation, I was trying to view it with the goal to use every aspect of it's abilities to drive my organization, I was just envisioning it taking over the entire process. I could handle every one of the inbound channels and respond to each individual in that same channel. The automated bots could take in all of the web, Facebook, Twitter and phone-voice inputs. The user-trained agents would direct the paths for normal UC claims vs covid-19 claims and even the new self-employed category. I could see it in a cloud environment so that as incoming calls and web request got heavy, another virtual server could be stood up to multi thread so as not to get overwhelmed."
"The content of the various sessions was a perfect showcase of the power that is a standard of your entire product suite. I was too busy paying attention to the presentations to use the chat rooms. I would absolutely love to go to either one, or both of your usual open houses in person."
A big THANK YOU to all who have so positively inspired and encouraged us and who have shared their feedback. We will do it again – this is a promise.
Register here to get a 30-day free access pass to all presentations. We very much would appreciate your feedback and look forward to hearing from you.
Enjoy!
EMEA
ISIS Papyrus Europe AG
Papyrus Platz 1
2345 Brunn am Gebirge
Austria
www.isis-papyrus.com
T +43 2236 27551-0


Americas
ISIS Papyrus America, Inc.
301 Bank Street
Southlake, TX 76092
USA
www.isis-papyrus.com
T +1 817 416 2345


APAC
ISIS Papyrus Pte. Ltd.
9 Temasek Blvd.
29-01 Suntec City Tower 2
Singapore 038989
www.isis-papyrus.com
T +65 6339 8719